Umar M Shareef is a Kannywood musician and actor that has gotten recognition in Nigeria and even beyond the shores of Nigeria. The actor came into the Kannywood industry as a musician but later decided to spies up things for himself by killing two best with one stone.
Umar M Shareef combines two most important niches that are very lucrative. He became an actor as well. Umar M Shareef acts and plays music. He has been successful in both. Talent really pays.
The musician/actors recently explains on why he decided to join the Kannywood industry. And how it paid off for him. Follow us as we unveiled his interview below.
1. I heard you once played football, tell us about it?
Umar M Shareef:
Yes indeed. You are right. I was once a footballer. I loved football. I was even paid to play for clubs. It was very beautiful to see how people are eager to see you. But it's now history as I am an actor and musician now.
2. Have you ever gotten wounded while playing football on the pitch?
Umar M Shareef:
Umar M Shareef Biography Education Career Marriage Net Worth Phone Number ll
Yes I got wounded while playing. What really happened was that, we played a whole match. It was just remaining few minutes before the last whistle would be blown. Suddenly, a defender came over and match my leg.
I fell down and got wounded. The wound lasted for a whole year, before I was able to walk on my feet again. Since then, I decided to take another direction, since i can't play effectively like before and I didn't want to loose my leg.
3. What gladdens your heart and makes you happy?
Umar M Shareef:
What usually gladdens my heart and makes me happy is when people appreciate my talents. This makes me so happy and contented. The feeling of people appreciating your works can not be quantified, only the heart knows how it feels.
Meet Abdul M Shareef, Biography, Acting Career, Birthday and More
4. What makes you angry?
Umar M Shareef:
I am a very humble and accommodating person. I truly hate when someone despises you for no reason. Whenever I am wrong I like accepting wherever I erred. But I don't like it when someone try to belittle me for no reason. Such actions, makes me angry. It pisses me off.
5. Please can you sing your first song for us and tell us why you sang it?
Umar M Shareef
The music goes this way: After living there is death, so take caution. This is the chorus of the song. The reason why i sang it is to reawakened to the consciousness of people that there is death. And that people should live a life worth emulating.
5. When do we expect your latest works to come out?
Umar M Shareef:
I am working tirelessly on so many projects. I have so many composed songs on ground presently. I can say about 15 of them. I will release them on YouTube very soon. They are composed with good messages worth emulating by God grace.
6. Who is Abdul M Shareef to you?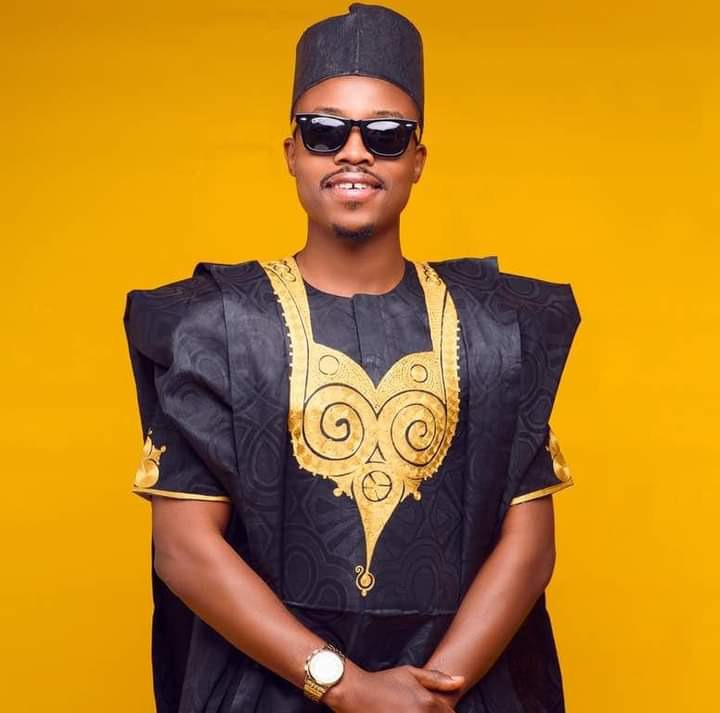 Umar M Shareef:
Abdul M Shareef is my family and sibling. We share the same parents. Abdul is my elder brother. Many people think he is my younger brother because of his facial attributes. But no, he is my senior brother.
7.Why do people find it hard to differentiate the two of you, are you twins?
Umar M Shareef:
Yes many people are finding it difficult to differentiate us. I have hearing about that perceptions from people. We are actually not twins but siblings. Many people find it hard to recognized us. Even recently someone saw me and was telling that he watched my films. But the film he watch was that of my brother. I just thanked him and he left.
I mostly sings and my brother mostly acts. So so he is more popular as an actor than as a musician. It wasn't long I ventured into acting. So people mostly can't recognized us because of our striking resemblance.
When people meet us differently, we don't confused fans by saying, I am not this, he is that. We all gladly appreciate our fans. This is because fans can't just differentiate us. Trying to explain them will means confusing them.
8. What was your motivating factor into becoming a musician?
Umar M Shareef:
love at first sight was my motivating factor. I became crazy in love with a certain girl. I was really disturbed by her love. I kept on picturing her in my heart. The feeling was too much for me.
I decided to take the bull by it's horn and confront the matter. I went to the girls house for the very first time. I saw a a small child and I told him to tell her someone wanted to speak to her. On sighting her I ran away.
I went to the girl's house a second time. This time I was bold enough. But wasn't able to say anything to her. I went a third time and the girl didn't grant me audience. I waited for more than an hour but I wasn't lucky to see her. During the period of waiting, I started getting lyrics for a song. Then I took my pen and started writing it.
9. Can you tell me the lyrics of the song?
Umar M Shareef:
The music goes this way" you are my love, my life, you are the one in my heart and the one I am always thinking". I think I should stop here. Surprisingly till date I have never recorded the song. It's still in my collections.
10. Did she eventually became your girlfriend or are you together now?
Umar M Shareef:
No the love affair didn't stand because I didn't pursued it again. I just went my way. I was furious and devasted but I blamed it on my immaturity. But I am happy that her love has risen me today to fame. They say some disappoinment are blessings. I was able to look inwards and u saw my calling.
11.How many wives do you have at the present?
Umar M Shareef:
I only have have a single wife. Her name is Maryam. We are also blessed with two children. Their names are, Aliyu and Hafsat.
12. Do you plan to take in a second wife?
No at the present, I am contented with my wife. And a reminder to you, I hope she doesn't hear you because she may not take it lightly. I am not ready for it and I didn't prepare for it.
13. Please is it true that actress Maryam Yahaya is your girlfriend?
Umar M Shareef:
No, Maryam Yahaya is not my girlfriend. Many people think the life we portrayed in films are real. No they are not. Films are just a medium of passing information. It might on education,politics, lifestyles and many more important topics. Maryam Yahaya is just my colleague at the Kannywood industry.
14.What is your best dish?
I love semovita with baobab soup or with vegetable soup. It's my best dish.
15. Who are your best friends at the Kannywood industry?
Umar M Shareef:
There is Nura M Inuwa, Ado Gwanja, Ali Jita, Adam A Zango and many more. I am a friendly person. So make make good friends.
What are your views about Umar M Shareef's lifestyles. Be part of our conversation by joining our conversation today. Like,share and follow us for more of our latest posts.
About Post Author